Tersan Shipyard launched Froyanes, the eight vessel it has built for the Norway-based Ervik Havfiske, a long-standing business partner. Froyanes with newbuild number NB1118, which will be a first in the world of its type, will be furnished with combined crab hunting and shrimp hunting abilities as well as having a big moon pool into which crabs will be drawn by way of a new system.
Designed by Marinteknikk, which is another long-standing partner of Tersan in the field of vessel design, the vessel has an overall length of 70 meters and a width of 17 meters. Furnished with a living area for 35 persons, the vessel is being built in accordance with high ice class regulations in order to hunt shrimps and snow crabs in Norwegian and Barents seas.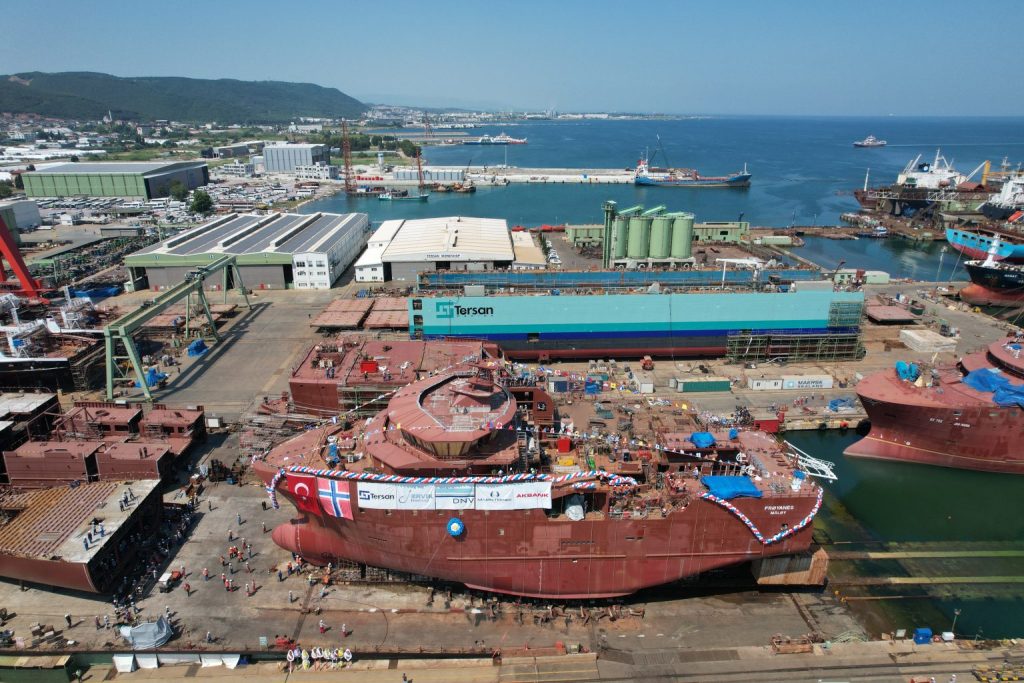 Characterized as the eight ship Tersan Shipyard has built for Ervik Havfiske, NB1118 Froyanes represents the strong partnership between the two companies. While the first vessel delivered to Ervik Havfiske in 2011 was also named Froyanes, Tersan Shipyard delivered 6 other vessels during the 12 years in between which successfully carry out fishing operations for Ervik Havfiske.
The current fleet of Ervik Havfiske by Tersan is successfully hunting in the waters of Antarctica and Norway and the new Froyanes NB1118 is scheduled for delivery by the end of 2023 which will then join the fleet.