Tersan Shipyard organized a steel-cutting ceremony in its Yalova facility for NB1121, the second one of the Methanol- and MDO/HVO-powered DP2 offshore Service and Support Vessels built for the Netherlands-based Acta Marine.
The first two vessels designed by Ulstein Design & Solutions AS in cooperation with Acta Marine are intended to be put to service in offshore wind farms. Furnished with TWIN-X vessel fore and aft design, integrated "Walk to Work" passage system, 3D cranes and hotel-like accommodation areas, the vessels are expected to meet and exceed market expectations and needs.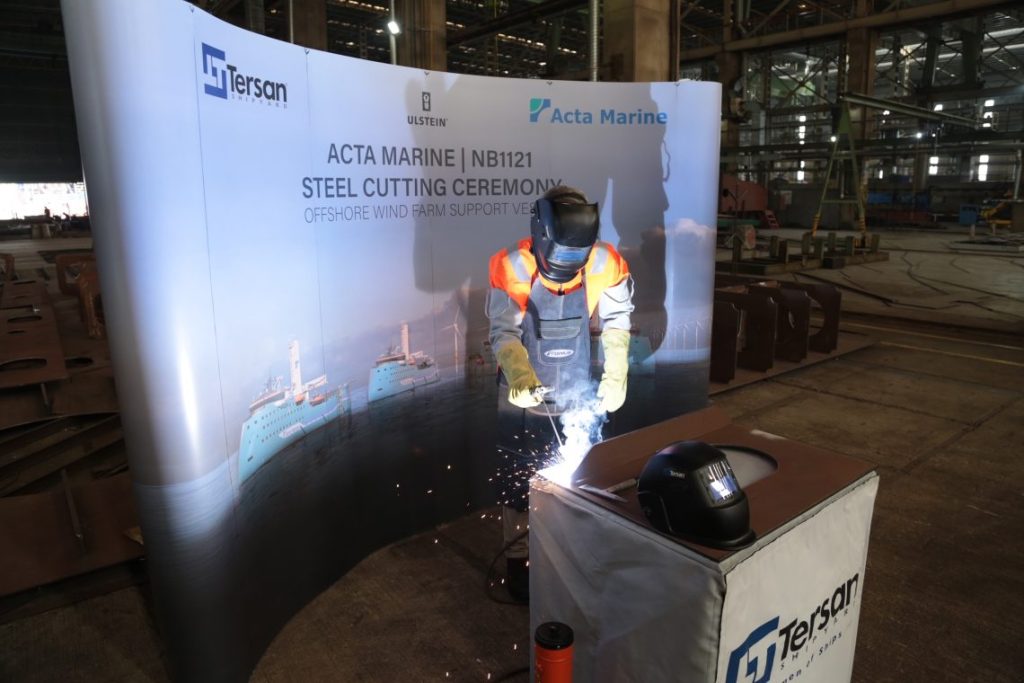 Having a length of 89 meters and a width of 19 meters, the vessels will be able to accommodate up to 135 crew and personnel in 85 cabins. Built in Tersan Shipyard, the vessels will be equipped with a sophisticated gangway system by means of which service engineers and technicians can be safely transferred from the vessel to the wind energy towers. The gangway system provided by SMST will be furnished with motion compensation system integrated with height-adjustable towers and personnel/cargo lift. The crane onboard with a 6-ton lifting capacity and 3D movement capability will also be provided by SMST.
The vessels were designed efficiently to have 500 m2 covered and 500 m2 open cargo areas on the deck. The two vessels are intended to allow for quick, safe, and efficient transfer of personnel and cargo even under extreme weather conditions where the wave height reaches 3.00 meters.
The vessels will ensure strong movement capability and workability during the transfer of personnel and cargo. While optimized high logistic capacities and high standards of comfort offered to the crew add great value to the vessels, the alternative-fueled methanol drive system ensures significant reduction in CO2 emissions. The first two vessels are planned for delivery in the 2nd and3rd quarters of 2024.